Washington Fishing Guide - Northwest Fishing Guide
Specializing in Guided, Northwest Washington, Riverboat
Fishing Tours For Salmon, Steelhead, and Sturgeon
As your Northwest Washington fishing guide, Let's Fish will take the guesswork out of catching big, beautiful, Northwest fish. We will share our 20 years of Washington fishing guide techniques and secrets to insure you battle the big ones.
As Northwest Washington natives, we take you to the most serene and bountiful Washington rivers you have ever fished. We have successfully guided beginning and expert anglers fishing Northwest waters since 1982.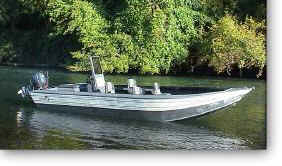 We specialize in fishing for large native Northwest species and whether you're fishing for salmon, steelhead, or sturgeon, you'll be comfortable and safe in our state-of-the-art twenty-one foot jet boat.
We furnish all fishing equipment, that includes high performance Rainshadow® rods, reels, and bait. We even clean your fish for you. There are no surprises on the bill at the end of your fishing trip. At Let's Fish, the prices you see are the prices you pay.
Your fishing experience will take place in a spacious, 21ft. Willie® Predator™ Jet Boat, the overwhelming favorite of guides and serious outdoorsmen everywhere. Your jet powered riverboat is equipped with comfortable Tempress® pedestal seats, personal flotation devices, and an ice chest filled with soft drinks and water.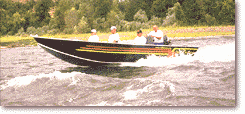 Remember, you are in charge of your fishing trip. While your guide will show you the best time, location, and methods for catching great fish, the details of your fishing trip, such as time and location, are ultimately up to you.
During the summer months we recommend fishing trips start between 5:00 am and 5:30 am, so you can fish the coolest part of the day and you are off of the river by the time it gets hot by 12:30 or 1:00 pm. Of course this is up to you. During the winter months start times vary.
To book your fishing tour of the most beautiful places on earth and create a fishing experience you'll never forget, call 360-458-8847 and Let's Fish.
Click Here
To Learn About The Rivers We Fish
Washington Fishing Guide - Northwest Fishing Guide
Specializing in Guided, Northwest Washington, Riverboat
Fishing Tours For Salmon, Steelhead, and Sturgeon